P.O. Box 813 ~ Tombstone, Arizona 85638 ~ (520) 457-3884

"BRONCO" BILL PAKINKIS
Self Published with Goose Flats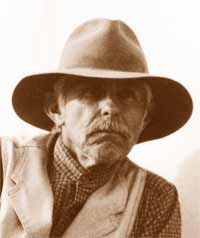 William F."Bronco Bill" Pakinkis is no stranger to the West. Over 32 years ago, he transferred to Marine Corps Air Station in Yuma and was assigned as the Non-Commissioned In-Charge of Security Operations at Marine Aviation Weapons and Tactic Squadron-One (MAWTS-1). Upon arriving in Yuma and getting settled, on his off-duty hours, he set out to research the West, particularly Yuma and the State of Arizona.
Bronco Bill has been interested in cooking and creating dishes since he was a "young-un", and he kept it up during and after his military career. After finally retiring from military service, he was able to devote more time to research the "Old Wild West" and the grub/vittles that people enjoyed. While living in Yuma, Bronco was involved not just in research, but also was heavily involved in the community. For more than two decades, he was a member of the Yuma Vigilantes (a Western Reenactment Group) the Yuma County Historical Society,and the Arizona Historical Society. He also served as a Rodeo Committee Member for the Silver Spur Rodeo for 18 years, among other activities.
Bronco was a published Historian for various print media in Yuma, the surrounding area and the State of Arizona, writing on topics such as the history of the "Old Wild West", and also wrote several cooking columns in numerous publications. Bill continues to write and publish stories in various print media in Tombstone and throughout Arizona, and will continue to do so into the future.
Bronco Bill wants you to enjoy his cookbook and to try many or all the recipes.
So Pards, enjoy: To live good is to eat good.
COWBOY GRUB
COOKBOOK
Spiral Bound - 108 pages
Out Of Print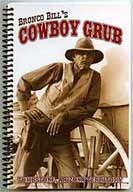 Since the days of the Wild West, and into the turn of the century, the American cowboys and frontier travelers had to go from town to town on horseback or by wagon, and during his or her travels, they had to eat. Back in those days there were no fast food restaurants or frozen dinners. You might find the occasional Trading Post along the line, but they were few and far between. Most everybody carried food and supplies on packhorses, in the backs of their wagons, or in their saddlebags.
Here is a collection of over 125 Cowboy style recipes and favorites from Bronco Bill's kitchen.
For years Bronco Bill Pakinkis has been researching cowboy recipes and has been developing many of his own. Every recipe in this book has been field tested in the kitchen or at a campsite in the desert.