P.O. Box 813 ~ Tombstone, Arizona 85638 ~ (520) 457-3884

GARY LEDOUX
Self Published with Goose Flats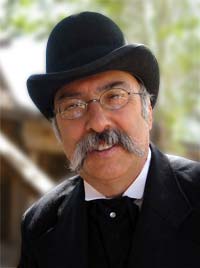 A native of New Hampshire, author Gary Ledoux has had a long-time love of the old-west in general, and Tombstone and its characters in particular.
His western articles have appeared in various magazines including True West, the Tombstone Epitaph and the Tombstone Times. His "Yesterwest" column appears monthly in the Tombstone Epitaph and Tombstone Times.
His first book, Tombstone: A Chronicle In Perspective was published in October 2002. That was followed by Nantan: The Life and Times of John P. Clum Volume 1 in October 2007 and Nantan: The Life and Times of John P. Clum Volume 2 in September 2008.
Mr. Ledoux has recently shifted his interest from the Old West to the Auto industry as he has been in the Auto Collision business for many years. Gary's newest book, "YesterWreck; The History of the Auto Collision Industry in America", is along that line and is no doubt going to be an invaluable resource for students of the Auto Collision Industry
For more information you can visit his webpage at yesterwreck.com/
TOMBSTONE TALES


Stories from the Town Too Tough to Die... and Beyond



HISTORICAL FICTION
ISBN 978-0-9825963-1-9
Softcover - 324 pages
illustrated
Out Of Print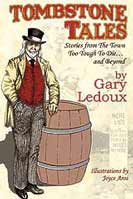 In the grand tradition of story-telling, Gary Ledoux's "Tombstone Tales" is not truly fiction, nor is it purely non-fiction, but a unique blend of Tombstone's colorful past, present, and possible future. Thirteen chapters tied together with a central character, Ezra T. Thornton, will challenge the reader to define which is more intriguing; the simple facts, what might have been... or what could be...

YesterWreck


The History of the Auto Collision Industry in America



NON-FICTION
ISBN# 978-1-939345-16-5
Softcover - 880 pages
Illustrated
Copies are Now Available from the author.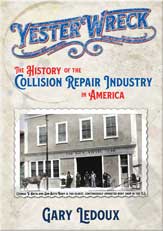 The history of the collision repair industry is not only a story of technology, but a story of people. People who made momentous breakthroughs in design, technology and repair methodology. Without these industry pioneers, the collision repair business would not be what it is today.
  YesterWreck has been a labor of love for over 10 years. Those years were spent researching and writing, trying to capture the essence of an intriguing industry while also including little-known facts and highlight of some of the industry's leaders and visionaries.
  So for all those repair technicians in the shops, shop managers, shop owners and all the other people who make their living in the collision repair industry this book is for you.