P.O. Box 813 ~ Tombstone, Arizona 85638 ~ (520) 457-3884

JAMES J. HUBLE
Self Published with Goose Flats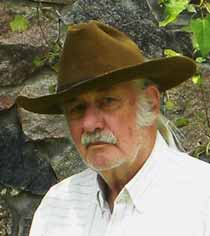 James Huble is retired and lives in the Catalina foothills north of Tucson Arizona. He has taught English, speech, dramatics, and philosophy; is a published poet and a song writer, and has performed professionally as a musician and actor. When writing these short stories, you might say he assumed the role of a chuck wagon cook; rustling up a pot full of situations, stirring in a little theatrical flavor, and seasoning with a mischievous perspective.

APPEARANCES


A Collection of 16 Western Short Stories
WESTERN FICTION
ISBN 978-0-9825963-7-1
Softcover - 152 pages
$10.99 MSRP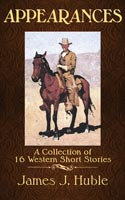 A sheriff tries to solve some robberies when the logical perpetrator has a perfect alibi.
A stagecoach robber learns something about the wages of sin when he tries to kiss a nun.
A drifter's past catches up to him with a startling revelation.
A Texas Ranger tries to figure out how a man can be stabbed to death if he is alone in a stagecoach.
These and twelve other Western stories will have you thinking. Sixteen short western stories each with a twist in appearances.
TWISTED TRAILS


A Collection of 18 Western Short Stories
WESTERN FICTION
ISBN 978-1-939345-04-2
Softcover - 162 pages
$10.99 MSRP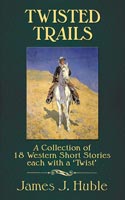 The old Apache said, "You swim in river, stand up, clothes covered with gold."
The young boy wanted to be like Jesse James and Black Bart. It was harder than he thought.
Was Garza, the renegade Apache, too cunning for the young cavalry Lieutenant?
How difficult could it be to kidnap a nine year school girl?
The author will lead you down a few twisted trails as you read these, and 14 other, Western Short Stories.
TANGLED TAPESTRY


A Collection of 19 Western Short Stories
WESTERN FICTION
ISBN 978-1-939345-07-3
Softcover - 116 pages
$10.99 MSRP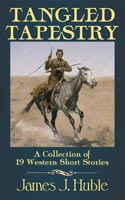 Homer Baynes would never agree that 'dog was man's best friend'.
The Cheyenne Indians spoke with great reverence of a hunter they called 'Many Shapes'.
Music played an important role during the Civil War. In more ways than might be imagined.
In Silver Creek 'swift justice' took on a whole new meaning.
"You really are one dumb lawman, bringing a knife to a gunfight," snarled the killer.
Mr. Huble's stories weave a Tangled Tapestry for the reader of these and 14 other western short stories.
WANDERING WINDS


A Collection of 20 Western Short Stories
WESTERN FICTION
ISBN# 978-1-939345-19-6
Softcover - 108 pages
$10.99 MSRP
NOW AVAILABLE!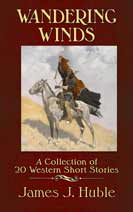 Sergeant Price took an unusual battlefield commission.
The lure of gold can lead to unexpected consequences.
Discovering the mystery horse thief's identity was a surprise.
Dealing with armed robbers sometimes requires panache.
You will enjoy reading these and 16 other Western Stories by James J. Huble..