P.O. Box 813 ~ Tombstone, Arizona 85638 ~ (520) 457-3884

JANE MOOR
Self Published with Goose Flats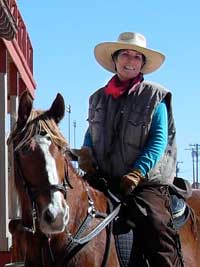 Jane, a retired elementary teacher has spent a lifetime with horses and brings to her writing a near professional knowledge and keen understanding of horses. While trail riding is her obsession, she has participated in showing, breeding, and competitive trail riding competition. She has been active in the equine community and organizations and especially enjoys judging 4-H horse projects. She has published articles on various subjects in local newspapers and a number of articles and poetry in equine publications. She is a regular contributor to Tombstone Times.
HORSES and their PEOPLE


The Legacy of Michael Malone
HORSE RELATED POETRY
ISBN# 978-0-9825963-3-3
Softcover - 142 pages
Out Of Print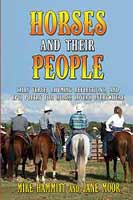 If you've ever giggled at "A Horse Running on Gas", reveled in "The Perfect Ride", or had a "Dream Fulfilled" by a horse, you'll relate to this celebration of Horses and Their People. The poems evoke tears of laughter and sadness, especially for horse owners recognizing their own personal memories of "Been there, done that." For non-horse owners, the poetry provides unconventional insights into daily life spent with these amazing creatures.
The accompanying photographs capture the charisma, grace, and beauty of horses, while the sometimes silly, sometimes serious poems examine the relationships and rapport that exists between humans and horses. A touching and fun read for horse lovers everywhere.