P.O. Box 813 ~ Tombstone, Arizona 85638 ~ (520) 457-3884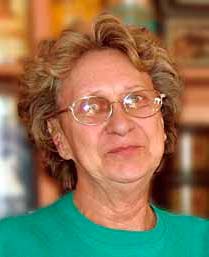 Joyce Aros came to Tombstone several times as a teenager back in the 1950's. Much of Allen street was boarded up and Boothill was a windswept and neglected old cemetery; no fence, no buildings, and few graves still marked with rusty pipes that had worn and dried up pieces of wood wired to them. But it haunted anyone who saw it and beckoned them to return and seek out the stories that were buried there.
Back in Canada, Joyce read everything she could about Tombstone and it's fascinating people. Not only the Earps and Doc Holliday, but so many more. But it soon became apparent that much of it was fiction. The Earp brothers were too good to be true and the cowboys were shadowy figures with no identity
Years later, after relocating to Tucson, Arizona, Joyce married a working cowboy, one of the last of the old time Vaqueros in the area, and got to know a lot of people who still lived a frontier type life. These people were still pioneering in so many ways and still adhered to the old way of living with the land.
Joyce's interest in the characters of the Cochise county exploits was set aside for a few years to raise seven children. But once that was done, it was time to seriously look into the history and find out who really were these men and women of a long time ago.
Not surprisingly, they turned out to be far more interesting than even she imagined. The results were several series of articles in defense of the ranchers and cowboys of Cochise county, and a continuing search for the true account of the shoot-out at the O.K. Corral, as it has been referred to.
Joyce currently works at the City of Tombstone Visitor Information Center, giving tourists information on what to see in do in Tombstone, along with some interesting conversation.
Her newest book is a novel, "Hope and Hardship; A Wagon Train Story".
She is currently working on a new book... coming soon.
NON-FICTION
ISBN 978-0-9825963-4-0
Softcover - 112 pages
12 illustrations
$12.99  MSRP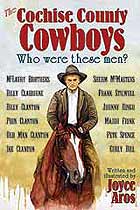 Joyce Aros combines her considerable artistic skill with careful research plus a fair amount of intuition, thus giving us a new and refreshing look at a variety of Cochise County "cowboy" characters associated with stories about the Earps.
Heretofore, the "cowboys" have been portrayed as gun-slinging, snaggle-toothed bad guys bent on destruction with no family history, morals, or redeeming qualities. This book gives us a better understanding of the Earp enemies who have been written off as little more than scoundrels and scallywags. Certainly most of these men rode dark trails, but the Earps were not exactly choir boys. Tough times bred tough men. This is another side to the Tombstone story.
Phyllis de la Garza, author of The Earp Gamble
NON FICTION
ISBN 978-1-939345-00-4
Softcover - 346 pages
illustrated
$26.99 MSRP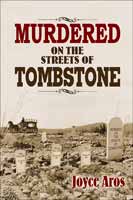 Four men waited and four men walked…clearly a confrontation was coming.
One side the Clanton brothers, Ike and Billy along with the McLaury brothers, Frank and Tom, local cattle ranchers in the Territory of Arizona, 1881. The other side, approaching with purpose, representatives of the law in Tombstone, Wyatt, Virgil, and Morgan Earp backed up by their volatile sidekick, Doc Holliday.
The resulting explosion of gun smoke obscured the definitive truth for over one hundred and thirty years.
In Murdered On The Streets Of Tombstone, Joyce Aros carefully examines an almost minute by minute evaluation of the events as they unfolded before the eyes of the startled townsfolk that chilly October afternoon in 1881. Citing the Inquest and Hearing testimonies and comparing them to the various Legends that have surrounded that fateful day for over a century the author's presentation may just lead you to concur that Tom McLaury, Frank McLaury and Billy Clanton were Murdered on the Streets of Tombstone.
FICTION
ISBN 978-1-939345-10-3
Softcover - 430 pages
Western Fiction - illustrated
$22.99 MSRP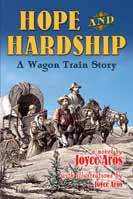 Looking out over the sea of faces their expressions reflected hope along with anxiety. The challenges ahead were daunting and too many had little idea of what was in store for them, but Jonah felt he could read most of them pretty well. He'd seen them all many times. As a wagon-master he had to be able to evaluate the men and families that would be driving their teams across rugged and often hostile country in their quest to settle on the new frontier. He knew full well that their whole existence depended on an undying hope, often realized, but always achieved with much effort. Men, women and children would depend on him to guide them to their promised land, the Willamette Valley, over 2000 miles away. The journey ahead, like all the others, would be footnoted with uncountable hardships, heartbreaking losses, newfound loves, encounters with Native cultures and, thankfully, occasionally punctuated with reveries and moments of celebrations!
This story of the westward movement, as told from the wagon-master's view, is certainly a journey filled with Hope and Hardship!
Westward Ho!