P.O. Box 813 ~ Tombstone, Arizona 85638 ~ (520) 457-3884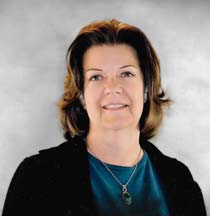 Cynthia Hayostek grew up hearing stories about B.A. Packard because his grandson was her father's best friend. Then she began encountering the Cochise County pioneer in history books as "B.A. Packard, the cattleman and banker … ." Knowing there had to be more to his story, Hayostek began looking for it.
She started in 1993 by searching Cochise County public records, and then by reading local newspapers. Finding much new information, she became fascinated by the way so many historical figures connect to Packard.
Hayostek also came to admire Packard's unquestionable integrity, and how it was passed on to his descendants. They include his great grandchildren, who are now the author's friends.
While researching and writing Connections, Hayostek graduated Phi Beta Kappa from the University of Arizona with a bachelor's degree in history. She also worked at a small daily newspaper and at a trade journal, and published four books. The most recent is Douglas, issued by Arcadia Publishing. She also publishes Borderland Chronicles, a quarterly history journal about the borderlands in southeastern Arizona. For more info: borderlandchronicles.com.
CONNECTIONS:


The Life and Times of B.A. Packard in 1880s Tombstone and on the Arizona-Sonora Borderlands



NON-FICTION BIOGRAPHY
ISBN# 978-1-939345-02-8
Soft Bound - 304 pages
$26.99 MSRP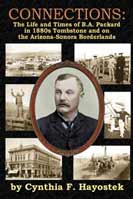 Tombstone, Arizona Territory, March 1880. Handsome, suave and wealthy B.A. Packard disembarks from a stagecoach onto a street of the silver mining boom town. Intending just a brief stay, Packard wound up living the rest of his days in southern Arizona.
During his remarkable life, Packard became a well-regarded mine owner, prosperous rancher, a force in territorial politics, and owner of a borderlands bank. His story is the story of southern Arizona.
Packard knew where Ike Clanton hid in the aftermath of the OK Corral. Packard mentored his friend William A. Green through a murder trial. During the Mexican Revolution, Packard's bank held silver of the Constitutionalist cause even as Pancho Villa attacked a neighboring town.
Connections is the engrossing biography of man who lived his multi-faceted life with great integrity in often-tumultuous times. It's also the story of Packard's many and varied connections.